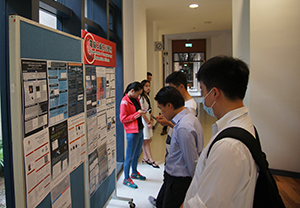 Our Department was founded in 1990 and has over 25 faculty members, roughly 210 undergraduate students and 220 postgraduate students now. We provide four undergraduate and postgraduate programs - BSc in Computer Science, MSc in Computer Science, MSc in E-Commerce Technology, PhD in Computer Science. The Bachelor of Science in Computer Science program is HKIE accredited and has been recognised under the Seoul Accord.
Computer and Information Science Programme curriculum covers main aspects of modern computer science and technology with emphasis on software engineering.
The programme mainly aims to train computer software engineers and computer system engineers capable of designing, developing, administrating and operating computer software and computer system applications. The programme is also designed to train computer science professionals for academic and research purpose. The programme curriculum offers intensive education in computer technologies and computer applications while providing education in solid mathematical background.
Computer and Information Science Programme has equipped seventeen laboratories with advanced facilities and rich software tools for senior CIS students to develop their final projects.